St. Patrick's Day is upon us again and I thought I'd put together a list of movies in case pub crawling has gotten old (or, like me, it's the 9th circle of hell). I've split this list into categories covering different aspects of Irish history and culture. This is by no means an exhaustive list, of categories or movies, but I hope you'll find something you'll like.
---
The War of Independence, the Civil War, and the IRA
Ireland, like many countries, has a bloody history, particularly in the past 100 years. Here are a few movies which cover the major issues in the past century whether in biopics or fiction. These are in roughly chronological order by the time period each film represents.
Michael Collins (1996)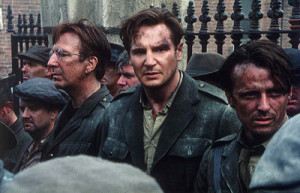 Michael Collins is one of the most influential and important figures in Irish history. Collins participated in the 1916 Easter Rising, created the IRA, and negotiated with the British government creating the Anglo-Irish Treaty which brought an end to the War of Independence. The movie also covers the 1920 Bloody Sunday, where Collins's IRA assassinated 13 British Intelligence members in the morning, and in the afternoon, in retaliation, the British army opened fire on a Gaelic football match wounding around 60 people and killing 14. Michael Collins stars Liam Neeson, Aiden Quinn, Alan Rickman, and Julia Roberts, and is written and directed by Neil Jordan who called this the most important movie he's made. One of my favourite things about this movie is Liam Neeson's warm performance, and the writing which preserve Collins's famous sense of humour. If you know nothing about this period of Irish history you may find yourself a little bit lost in some places since it assumes a base knowledge, but it's still a genuinely entertaining movie.
The Wind that Shakes the Barley (2006)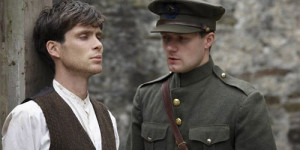 The Wind that Shakes the Barley stars Cillian Murphy, Padraic Delaney and Liam Cunningham, and was directed by Ken Loach, it follows roughly where Michael Collins leaves off. The Anglo-Irish Treaty lead to a brutal civil war – as they always tend to be – and The Wind that Shakes the Barley follows two brothers and their friends as they, first, fight the British military, and then, in the civil war that follows, each other. The movie gives a personal view of the civil war, shunning an epic overview of the politics and historical progression of the civil war, and why not, the most important and profound stories about civil wars are often what they do to families and friends.
Bloody Sunday (2002)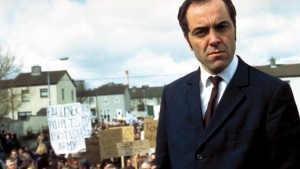 Paul Greengrass directed this documentary-style film which follows the events of "Bloody Sunday" in Derry, on January 30, 1972, when an Irish-rights protest march became a massacre by British troops, who killed 14 of the protesters. The realistic style of the film gives it an immediacy that makes it, at times, hard to watch, but this is also what makes this movie work. And yes, this is the event referenced in U2's iconic song "Sunday Bloody Sunday."
In the Name of the Father (1993)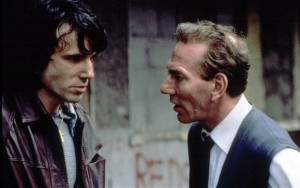 Based on the true story of the "Guildford Four" who were wrongly convicted of the IRA bombing of a pub in Surrey, England in 1974 which killed 4 soldiers, a civilian and wounded 65 others. Perhaps not Daniel Day Lewis's most famous role, but easily one of his strongest – he was indeed nominated for the Best Actor Oscar. Day Lewis plays Gerry Conlon, who, along with his friend Paul Hill (played by John Lynch), were coerced and tortured into signing false confessions. The movie follows Conlon's time in prison and his fight for exoneration, and his strained relationship with his father. This is worth watching simply for Daniel Day Lewis's performance, but it also does a good job of avoiding romanticizing the IRA.
Some Mother's Son (1996)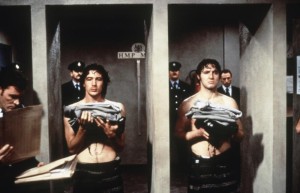 Stars Helen Mirren, Aiden Gillen, and John Lynch, Some Mother's Son chronicles the protests and ultimate hunger strike by IRA prisoners who were fighting to be treated as prisoner of war rather than criminals. Confined to the notorious 'H-Block,' The movie follows Gerry Quigley whose cell mate is protest leader Bobby Sands, and the difficult decisions their families had to make as the hunger strike progressed. The nice thing about this movie is it does give political context, and significant screen time is given to the English, though I can't say it's very flattering or unbiased.
Hunger (2008)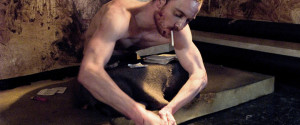 A more recent look at the H-Block hunger strike. Hunger is a far more personal, contained portrait of Bobby Sands played by Michael Fassbender.
The Crying Game (1992)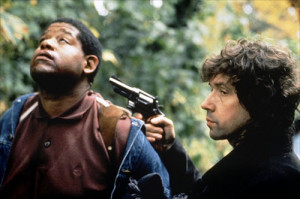 The Crying Game  was a Best Picture nominee and stars Stephen Rea and Forest Whitaker. It was written a directed by Neil Jordan (get used to seeing his name!). This movie is entirely fictional, and tells the story of Fergus (Stephen Rea) and his IRA comrades who have kipnaped British soldier Jody (Forest Whitaker). Fergus and Jody become friends and following Jody's death, Fergus flees to London and looks up Jody's girlfriend, Dil. Fergus, now being hunted by the IRA, is meanwhile falling for Dil.
Fifty Dead Men Walking (2008)
A very loose adaptation of British undercover agent Martin McGartland's autobiography – he disowned the film saying it was "as near to the truth as Earth is to Pluto." Recounts the infiltration of McGartland's fictional counterpart into the IRA in the late 80s and what happens to him when he's discovered to be a British agent.
---
Crime History and Drug Culture
Despite the fact that Irish culture, especially on St. Patrick's Day, tends to be strongly linked with alcohol, since the 80s Ireland has seen a meteoric rise in drug abuse. Included here is also a movie about Ireland's most infamous criminal.
The General (1998)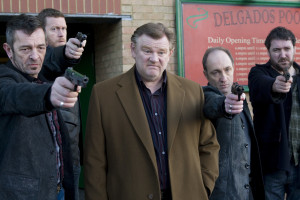 Based on the life of one of Ireland's most notorious gangsters, Martin 'The General' Cahill. The General stars Brendan Gleeson, Adrian Dunbar, and Jon Voight, and was directed by John Boorman. What makes this an extra special movie is that John Boorman himself was actually burgled by Cahill (the scene with the gold record!). Cahill also famously burgled a jewellery store, O'Connors, where a dear friend of my family's worked, but luckily, he was home sick that day. There is a more recent, but inferior, film which loosely chronicles Cahill's art heists, Ordinary Decent Criminal (2003) starring Kevin Spacey.
Veronica Guerin (2003)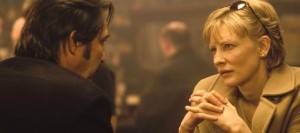 Based on the true story of journalist Veronica Guerin as she takes on Ireland's drug lords in the press and her subsequent murder. Historically, this case had a huge impact on Irish culture and helped establish the Criminal Assets Bureau. The movie stars Cate Blanchett as Guerin and was directed by Joel Schumacher. Probably the weakest film in the bunch but I included it here because it's an important part of Ireland's social history.
Adam and Paul (2004)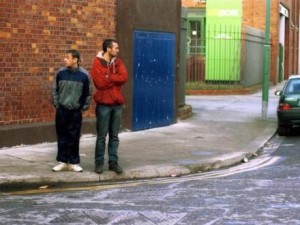 A personal look at drug addiction in Ireland that borders on claustrophobic. Adam and Paul is at once funny and heartbreaking. One reviewer suggested that "only masochists need apply," but these are precisely the points of view that are important. Also, the movie very subtly criticizes the addiction culture in Ireland and the way people encourage an even enable each other – particularly where alcohol is concerned.
---
The Catholic Church
The association between Ireland and the Catholic Church is undeniable. For a long time in Ireland the church had more authority and direct influence on the average citizen's life than did the Irish government or any other social body, and unfortunately, that power was sometimes abused. Here a few films that explore the darker side of the church in Ireland.
The Magdalene Sisters (2002)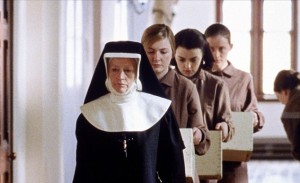 Set in the mid 60s, The Magdalene Sisters follows four teenage girls as they are sent to the Magdalene Asylum, a home for "fallen" women which was run by the Catholic church. Not only are all four women guiltless (two are unwed mothers, another was raped, and the fourth was judged as being too flirtatious), but the film unflinchingly (shows) their squalid living conditions, the physical, mental, and sexual abuse they suffered, and also underlines the hypocrisy of the nuns and the priest who oversee the asylum.
Philomena (2013)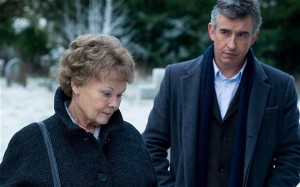 Starring Judy Dench (who received a Best Actress Oscar nomination) and Steve Coogan, and directed by Stephen Frears. This Best Picture Oscar nominee follows London based journalist Martin Sixsmith (Steve Coogan) as he interviews Philomena Lee (Judy Dench), a women who was forced to live and work in a convent following the birth of her son out of wedlock. Unbeknownst to Philomena, the nuns in the convent suddenly place her son for adoption. Together Martin and Philomena go on a search for Philomena's lost boy. Although critically successful, Philomena was also accused of being anti-Catholic, with The New York Post's Kyle Smith going so far as to call it "90 minutes of organized hate." This criticism was also extended to The Magdalene Sisters and The Butcher Boy (which is further down the list). Certainly the church in Ireland is rarely portrayed as warm and cuddly in film, but then, the abuses of the church in Ireland (and elsewhere) are beyond doubt, but I'll leave it to you to decide if these movies go too far.
---
Music, Culture and Comedy
For more contemporary and social views of the Irish, here are some movies which employ an Irish point of view, sense of humour, and musical inclination.
The Commitments (1991)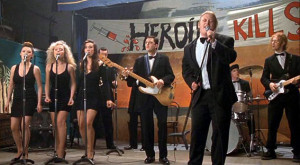 In a poll sponsored by Jameson's Irish Whiskey in 2005, The Commitments was voted the best Irish movie of all time. Based on the novel by Roddy Doyle, The Commitments follows an ambitious band manager who puts together a soul band with the help of a trumpet player sent by God himself, and chronicles the band's rise to success (…maybe). There is a lot to like here, even if you're not a soul music fan, The Commitments is absolutely delightful. The film is genuinely funny, the music is great and the characters not only unique but well drawn. And Colm Meaney as band manager Jimmy Rabbitte's Elvis-worshipping father is alone worth giving this one a try.
Once (2006)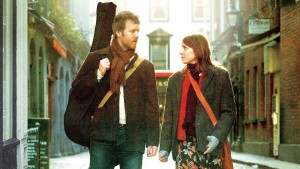 Unlike a lot of the other movies on this list, Once shows a lot of the nicer places in Dublin, though is manages to include a small glimpse into Ireland's drug issues in an early scene. Once is a charming little movie which tells of a moonlighting musician as he sings on Dublin's famous Grafton Street hoping for a break, when he meets a Czech immigrant who reveals to him she is also an aspiring singer-songwriter. They team up and begin recording an album whose songs mirror their own evolving love for each other. Once highlights Ireland's increasing immigrant population and underlines the importance of music in Irish culture.
In Bruges (2008)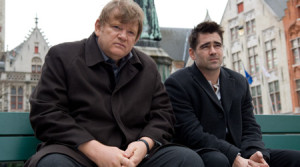 If you saw the trailers for In Bruges I would like to tell you that the movie itself is nothing like them. The movie stars Colin Farrell, Brendan Gleeson, and Ralph Fiennes, and is written and directed by Martin McDonagh. In Bruges is the story of two Irish hitmen laying low in Bruges, Belgium, following a hit gone awry. Due, perhaps, to the tendency towards the melancholic in the Irish character, the colour of comedy in Ireland is very often black, and In Bruges is a wonderful example. This is a surprisingly moving, and funny, story written and directed by one of Ireland's most important contemporary play-writes. It's also probably my favourite Colin Farrell movie, as he seems totally at home in his character and plays it beautifully. Believe me, this one will surprise you, I highly recommend it.
Intermission (2003)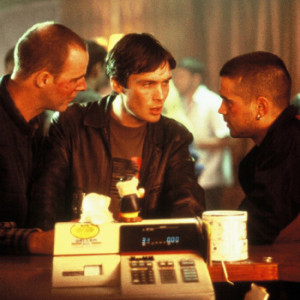 Starring Cillian Murphy and Collin Farrell, Intermission follows the intertwining stories of several characters and their complicated love lives. It's extremely funny and a good representation of the Irish sense of humour. If you are a Colin Farrell fan, you'll like this movie, and if you're not a Colin Farrell fan, you'll like what happens to him. Either way, his rendition of "I Fought the Law" over the end credits, in his full Dublin accent, is nothing short of glorious.
Waking Ned Devine (1998)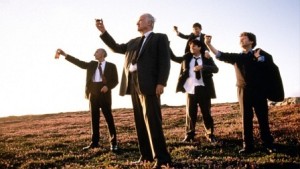 For a more light-hearted adventure, Waking Ned Devine follows two elderly friends, Jackie O'Shea (Ian Bannen) and Michael O'Sullivan (David Kelly) as they discover someone in their small village has won the lottery and seek them out to see if they're feeling generous. When they discover the winner, Ned Devine (Jimmy Keogh) has died from shock with the ticket in his hand, the whole village comes up with a scheme to try claim the prize money anyway. Waking Ned Devine is a shift away from the urban-centred films in this part of the list to the politics and culture of small village Ireland. And it's hilarious.
---
Irish Legends and Myths
Celtic mythology is not nearly as well known as Roman, Greek, or Norse mythology, but it is just as rich. There are shadows of its influence in George R.R. Martin's Game of Thrones series, but here are a few movies which use Irish myths as their focal point.
Into the West (1992)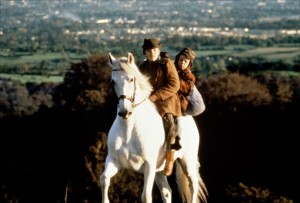 Revolving around the myth of Fenian hero Oisin and Tir na nÓg, the Land of Youth, Into the West chronicles a mysterious white horse who befriends two troubled young boys whose mother has died and whose grief-racked father has rejected his culture and become an alcoholic. This one is remarkable for a few reasons, not the least of which is because its main characters are travellers, a culture rarely portrayed as positively as it is here. The film also combines the Irish heritage of the myth and the American influence of Westerns in Irish culture as the boys's favourite genre and the model for their highly entertaining adventure.
The Secret of Roan Inish (1994)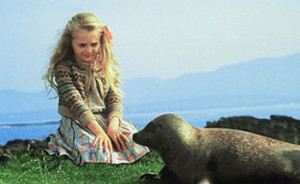 Built on the legend of the selkies – creatures who are seals in the sea, but shed their skin to become human on land – The Secret of Roan Inish tells of a young girl, Fiona (Jeni Courtney) who comes to believe her lost brother became a selkie. As the book on which this movie is based sets the story in Scotland, where the selkie is a shared legend, this is not only a charming movie, but a nice example of shared Celtic culture (there is a lot of overlap between the mythologies of Ireland, Scotland, Wales, and England).
The Secret of Kells (2009)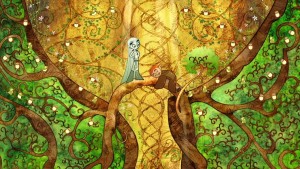 The Secret of Kells fictionalizes the creation of the Book of Kells, an illuminated, Latin copy of the Gospels, and considered by many to be Ireland's greatest treasure. It also features Crom Cruach, an early Celtic god. The movie's main character, Brendan, with the aid of a forest spirit name Aisling, must outwit Crom Cuach in order to help his uncle Abbot finish the Book of Kells, as Abbot prepares for a Viking invasion. Nominated for the Best Animated Feature Oscar, The Secret of Kells features brilliant animation and a heavy influence from Celtic art and myth (even in the snow flakes!). This movie is stunning and wholly unique: I promise you've never seen an animated film quite like it.
Song of the Sea (2014)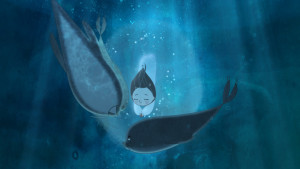 From the same studio and director as The Secret of Kells, Song of the Sea, like The Secret of Roan Inish, is also based around the legend of the selkie (it also has shades of influence from Into the West). Living in a lighthouse by the sea with their grieving father following the death of their mother, Ben and Saoirse discover the mute Saoirse is a selkie who must rediscover her voice in order to save the spirit world from a Celtic goddess. Like The Secret of Kells, Song of the Sea was nominated for a Best Animated Feature Oscar at this past ceremony, and features unique Celtic-inspired art. The traditional animation and beaming storytelling are truly amazing, and if you find yourself unaffected by this one, you probably aren't alive.
---
Irish Literature
Ireland has a very long and distinguished literary history, and more than a few of Ireland's best novels have been adapted to the screen. Here are a few modern examples worth a look.
Breakfast on Pluto (2005)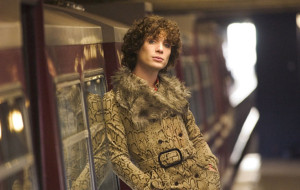 Stars Cillian Murphy – who had to make at least one more appearance on this list! – and is written and directed by Neil Jordan, who's also pulling his weight. Based on the novel by Patrick McCabe, Breakfast on Pluto follows Patrick, who's trasngender, as he grows up with a cruel foster family, is troubled as a teenager, and eventually transitions to a woman and renames herself Kitten. The movie follows Kitten's efforts to find her mother in London, and her entanglements with the glam rock world, the IRA, and prostitution. The film is far softer than the novel – Kitten, for example, is the G rated version of her name in the book – but is still a powerful and effective movie. Patrick McCabe is one of Ireland's finest writers and Breakfast on Pluto is worth watching for its focus on a transgender character, a group rarely represented, not just in Irish culture, but any mainstream culture. It is perhaps for this reason that many people have mixed reactions to this movie, but I think it's worth a look.
The Butcher Boy (1997)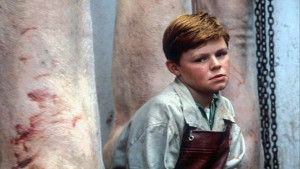 Another directed by Neil Jordan, and also based on a novel written by Patrick McCabe. I actually watched this in one of my film studies classes in university. The movie follows Francie Brady (Eammon Owens), a 12 year-old boy who, following the death of his mother (a recurrent theme here…), gets into a battle of wills with another boy in his neighbourhood. He ends up in a reform school where he is abused and retreats into a violent fantasy world. After Francie returns home his grip of reality begins to slip. This movie is a force of nature. The fantasy sequences are vibrant, and as usual, Neil Jordan's storytelling is right on. It's absolutely worth watching.
Angela's Ashes (1999)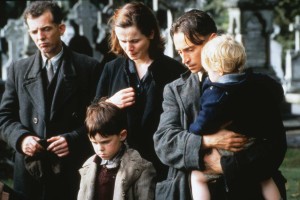 Not my favourite, but I would be remiss to forget mentioning the adaptation of Frank McCourt's outrageously popular memoir. The movie reflects Frank's experience of moving back to Ireland as a child and growing up in Limerick during the 30s and 40s in poverty and his ambition to return to America.
---
Irish Television
For those of you who would prefer to binge watch, you know, to go with all the binge drinking.
Father Ted (1995-1998)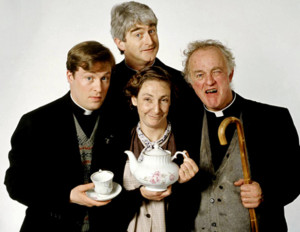 The show follows three priests, Father Ted Crilly, Father Dougal Maguire, Father Jack Hackett and their tea-obsessed housekeeper Mrs. Doyle on their mad adventures on the small, remote Craggy Island (alas, it's a fictional island). If you're planning a trip to Ireland or will be spending time with an Irish person in the near future and would like to be able to understand their jokes, be sure to watch this show. Father Ted references in Ireland make up about 30% of any given conversation. And as a bonus it's a much more light-hearted look at the religious side of Irish culture than other examples here.
Love/Hate (2010-Present)
Love/Hate is a crime drama which is outrageously popular in Ireland, though not without controversy. Season 5 recently ended and a sixth season is planned but will not air until 2016. It's very well written, extremely well acted, and despite the proliferation of TV shows profiling the drug trade, this one has a lot of unique things to offer: an Irish perspective, the mad Irish slang, and the relationship between drug trafficking and the operation and political aims of the IRA. Recently it was announced Dennis Lehane is spear-heading an American remake set in Hawaii. But don't wait for the remake, do yourself a favour and watch the Irish version, it's not a culture that can be duplicated anywhere else.